Hectic work schedule, irregular meal timings, low energy levels or a regular gym goer working hard to achieve optimal health and vitality – does this sound like you?
In either case, you must ensure a regular supply of essential vitamins and minerals the body needs to thrive.
In this fast-paced world, meeting daily recommended allowances of all nutrients solely through diet might be challenging. This is where multivitamin supplements can be a boon by providing a complete package of essential micronutrients in a single pill. They help boost energy levels, improve cognitive health and physical performance, and strengthen our immune health.
It is important to note that the nutritional needs of men and women differ. This blog will guide you through the complexity of ingredient lists, dosages, and quality standards, empowering you to choose the best based on your needs.
Let's begin!
What are Vitamins & Multivitamins?
Vitamins and minerals are essential micronutrients we all need for our body's processes to function normally.
Vitamins are organic and naturally present in our dietary foods, while minerals are inorganic in nature. Minerals are found in soil and water and are absorbed by plants and animals.
Our body can not produce vitamins and minerals like vitamins A, D, and B, iron, calcium, magnesium, etc.; therefore, one must obtain them externally through diet or supplements. They hold significant importance in our daily life.
Indian Council of Medical Research (ICMR) has stated daily dietary recommendations for all the nutrients, and any insufficiency might result in profound health implications.
The nutrient requirements of men and women differ based on factors like age, height, exercise intensity, eating habits, and medical history.
Men performing intense workouts are prone to developing vitamin B12, D, calcium, and magnesium deficiencies.
You may be one of those who realize that there was no intake of any greens or fruit the entire day. If this is a frequent case, it is the best time to consider including a multivitamin.
Multivitamin supplements contain essential vitamins and minerals to fill daily nutritional gaps. Though they are not a substitute for whole foods, multivitamins can help meet requirements and prevent deficiencies.
Multivitamin supplements may or may not contain other nutrients like amino acids, omega-3 fatty acids, digestive enzymes, and herb extracts.
Benefits of Multivitamins for Men
Source: Freepik
In this section, we will discuss the most common question on multivitamins – are multivitamin supplements good for health?
Multivitamins come with ample health benefits. They may support living a healthy lifestyle and staying energetic.
1. Boost Immunity
Several vitamins and minerals are critically required for the smooth functioning of our immune system, like vitamins A, C, E, zinc, and selenium 1.
These nutrients act as antioxidants, reduce oxidative stress and fight against damaging free radicals. Vitamins A and D can influence the immune system by decreasing inflammation and tissue damage. Similarly, zinc sufficiency affects immune T and B cells' functioning. Vitamin C deficiency may affect respiratory function.
2. Promote Heart Health
Multivitamins are good for our heart health as they contain nutrients like B vitamins, magnesium, calcium, niacin, and CoQ10. These nutrients are required for healthy heart functioning and reduce cardiovascular disease risk.
Minerals like potassium, calcium, and magnesium are needed to regulate blood pressure and keep blood vessels relaxed and healthy. Active men, athletes, and bodybuilders tend to lose a lot of electrolytes via sweat during exercise. Taking a multivitamin can help restore electrolyte balance and keep the heart healthy.
A study conducted in 2016 investigated the same in which healthy men were given selected foods and multivitamin supplements. Researchers observed that multivitamin use was associated with a 14% lower risk of cardiac revascularization 2.
3. Energy Levels
Low energy levels are a common concern for most of us. The deficiency of B vitamins, iron, vitamin D, etc., can affect energy levels and make us feel weak and lethargic.
An adequate supply of each B vitamin is necessary for the smooth functioning of the energy-production system. Similarly, vitamin C plays an essential cofactor in transporting long-chain fatty acids into the mitochondria. Thus, it also plays a crucial role in energy production.
Whether a gym-goer or men with a desk job, adequate energy levels are a must for everyone. It is because energy is associated with well-being, stamina, and vitality that supports the ability to undertake daily physical or intellectual activities and social relationships.
Hence, multivitamin supplements ensure no micronutrient gap and a continuous supply of essential nutrients for energy production (Kennedy, D. O., Stevenson, E. J., Jackson, P. A., Dunn, S., Wishart, K., Bieri, G., Barella, L., Carne, A., Dodd, F. L., Robertson, B. C., Forster, J., & Haskell-Ramsay, C. F. 3.
4. Muscle Growth and Repair
A multivitamin is a training essential for an active athlete or a gym-goer. Insufficient intake of vitamins and minerals might result in the breakdown of cellular metabolism affecting tissues and organs, and a decline in physical capabilities.
It has been observed that active people are at high risk of vitamin deficiencies as they continue to suffer nutrient depletion due to rigorous training. Intense workout sessions cause increased production of free radicals, and strengthening the antioxidant defences is essential to prevent damage from oxidative stress.
Multivitamin supplements containing potent antioxidant micronutrients like vitamins A, E, C, zinc, and selenium are a must for people with a regular exercise schedule.
Multivitamin supplements provide essential nutrients for new muscle synthesis and repair of damaged muscles. Vitamins and minerals are critical for muscle support and healthy joints, ligaments, and tendons.
5. Blood Pressure
High Blood Pressure (BP) or hypertension is one of the most common chronic diseases worldwide. It is a major causative factor of cardiovascular disorders. Studies suggest that the prevalence is more among men than women. A diet surplus of fruits and vegetables minimizes high blood pressure risk as they are high in vitamins and minerals.
The primary aim of multivitamin supplements is to provide critically essential micronutrients. Nutrients like vitamin D, potassium, and magnesium exhibit a blood pressure-lowering effect. In addition, multivitamins supplements are also rich in antioxidants that lessen the free radical impact, as oxidative stress is also linked with vascular inflammation and hypertension.
Thus, including a multivitamin supplement in a regular diet is an excellent addition to reducing the risk factors of hypertension and keeping blood pressure levels in control.
6. Maintain Bone Structure
Multivitamin supplements provide essential nutrients like calcium, magnesium, vitamin D, and K for healthy bones. These nutrients are vital to strengthen bone density and reduce the risk of osteoporosis. Nutrient deficiency for a prolonged period is associated with bone loss, reduced bone strength, and increased fracture risk.
Intense workouts put a lot of strain on bones and joints. Therefore, multivitamin supplementation is a perfect strategy to minimize bone loss and maintain bone mineralization. A study performed on older men and women found a significant reduction in bone loss through calcium and vitamin D supplementation 4.
How to Select the Most Effective Multivitamin
Choosing the right multivitamin is vital to ensure that it serves the purpose of making it a part of the daily diet. Vitamins and minerals are essential for everyone; therefore, a multivitamin supplement, preferably containing all micronutrients like B vitamins, iron, folic acid, magnesium, potassium, etc., is deemed suitable.
It should have a correct balance of nutrients basis nutritional requirements for men. It is because the RDA of some nutrients is different for men and women, for example, iron, zinc, magnesium, and vitamin A.
One must always buy the supplement from a trusted source like Nutrabay. The product should be lab-tested and certified to ensure the ingredients' effectiveness.
One can choose multivitamins as per the liking. For example, older adults prefer taking them in liquid or syrup form. Staying within the recommended usage is advisable to enjoy the benefits, which may vary from brand to brand.
How Do We Find The Best Multivitamin Supplement For Men?
Source: Freepik
These are a few parameters that may help select the best multivitamin.
Quality
Quality is among the most significant deciding factors when opting for any health supplement. A quality product ensures good manufacturing practices and 100% transparency with the label claim.
A good quality supplement will always be free from contaminants and unwanted fillers. One must check the manufacturer details, batch details, date of expiry, FSSAI License number, and certifications.
Ingredients
One should prefer a multivitamin containing all the necessary nutrients. Avoid multivitamins manufactured with unwanted fillers.
These days many multivitamin supplements come from additional health-boosting ingredients like probiotics, omega-3 fats, and herbal extracts.
It is essential to check the list carefully and choose based on health needs. One should give care in case of any allergy to food or food additives, such as gluten, wheat, or dairy.
Health Concerns
A multivitamin supplement should serve its purpose and must address the health concern. But for that, it is vital to pick the right one.
If you are a regular gym-goer or involved in sports, you can choose a multivitamin with omega-3 fats that help support recovery from intense workouts and joint health.
Men facing frequent indigestion issues can take multivitamin supplements containing pre and probiotics. Older adults should specifically check the calcium, magnesium, zinc, potassium, and phosphorus content for bone health and density. It is because older adults with weak bones are more prone to falls and fractures.
Men with stressful lifestyles can pick multivitamins with added herbs like ashwagandha, Gingko Biloba, and Brahmi that help ease stress, relieve anxiety, and uplift mood.
Therefore, men should first understand the need for taking a multivitamin as it may help filter out options and select the most suitable one.
Consumer Rating
One can check the consumer ratings and feedback shared by supplement users. It may help understand the pros and cons of any product from a consumer's point of view.
However, it is crucial to identify between fake and genuine ratings.
Conclusion
Carefully selecting multivitamin blends can help nourish the body and unlock its full potential. It is a convenient and effective way to keep nutritional deficiencies at bay and attain unique health goals.
We have compiled a comprehensive list of expert recommendations for you. Remember, consistency is key, so make it a habit to take your multivitamin regularly and monitor its positive impact on your health.
10 Multivitamins for Men's Health by Nutrabay
It is one of the best multivitamins in India for men. This supplement comes with a highly potent blend of 25 essential vitamins and minerals required by men.
This multivitamin is suitable for everyone, including older adults. It provides immunity-boosting ingredients like vitamins C, E, and zinc at 100% RDA. It is vegan-friendly, and just one tablet daily can maintain a healthy, active, and energetic lifestyle.
Form: Tablet
Quantity: 30, 60, and 120 Tablets
This supplement is apt for vitality and virility as it has an additional boost of natural extracts and Tribulus Terrestris that help boost testosterone levels naturally.
This popular bodybuilding supplement provides essential daily nutrition to enhance athletic performance. GAT multivitamin is ideal for building muscle, gaining strength, and improving hormonal balance. It supports immune function against diseases, infections, and inflammation.
Form: Tablet
Quantity: 60 and 150 Tablets
This multivitamin supplement has been formulated keeping the specific needs of men above 18 years in mind. It can help fill nutritional gaps and promote general well-being for a healthy and active lifestyle.
It is enriched with various health boosters like CoQ10, Inositol, Korean Ginseng, Gingko Biloba, Ginger, Grapeseed extract, and Bilberry. Swisse Multivitamin also contains adaptogens to help the body perform optimally during stress and support your energy, brain, skin, hair, immune, and overall health.
Form: Tablet
Quantity: 30 and 60 Tablets
Himalayan Organics Multivitamin contains over 60 micronutrients and 14 performance blends to support energy metabolism and athletic performance.
Besides vitamins and minerals, it is enriched with herb extracts of Tribulus Terrestris, Ginseng, Ginkgo Biloba, Grapeseed, and Pine Bark to boost strength, endurance, vigour, and focus. The presence of digestive enzymes promotes better digestion and nutrient utilization and avoids abdominal distress.
This supplement is perfect to fit your modern-day diet and nutrition needs.
Form: Tablet
Quantity: 60 Tablets
It contains a scientifically developed formula to support the nutrition needs of men. It combines the most potent fast-absorbing MCT oil from coconut, caffeine, and ginseng.
This multivitamin is made with clinically proven and highly bioavailable ingredients that are non-GMO, plant-based, and allergen-free. Its delayed-release technology is designed to dissolve over 8 hours in the less sensitive areas of the gut to ensure maximum bioavailability.
The advanced formula of this multivitamin provides 22 ingredients at 100% RDA and is ideal for your energy, immune, muscle, joint, and heart health.
Form: Capsule
Quantity: 60 Capsules
HealthAid MultiMax multivitamin provides a perfect combination of vitamins and minerals for men in a balanced way. This supplement nourishes our body and works to improve health holistically.
The micronutrients support energy metabolism, eliminate harmful toxins from the body, and overcome stress and fatigue. It provides additional benefits of Ginseng and Gingko Biloba that exert a protective effect from free radicals and help build endurance and virility.
This supplement may prove your safeguard against nutritional deficiencies.
Form: Capsule
Quantity: 30 Capsules
Platinum Multivitamin comprises the most critical micronutrients to support health and athletic performance. Besides vitamins and minerals, it provides vital amino acids and digestive enzymes, making it a complete formula for an athlete.
MuscleTech has been known to provide cutting-edge formulas using best-in-class ingredients. This multivitamin is formulated with an 865 mg amino support matrix and 536 mg herbal matrix to ensure a solid nutritional base for recovery and protein synthesis post-workout.
The brand delivers the quality one can trust, and this multivitamin is your daily partner for a healthy and active lifestyle.
Form: Tablet
Quantity: 90 Tablets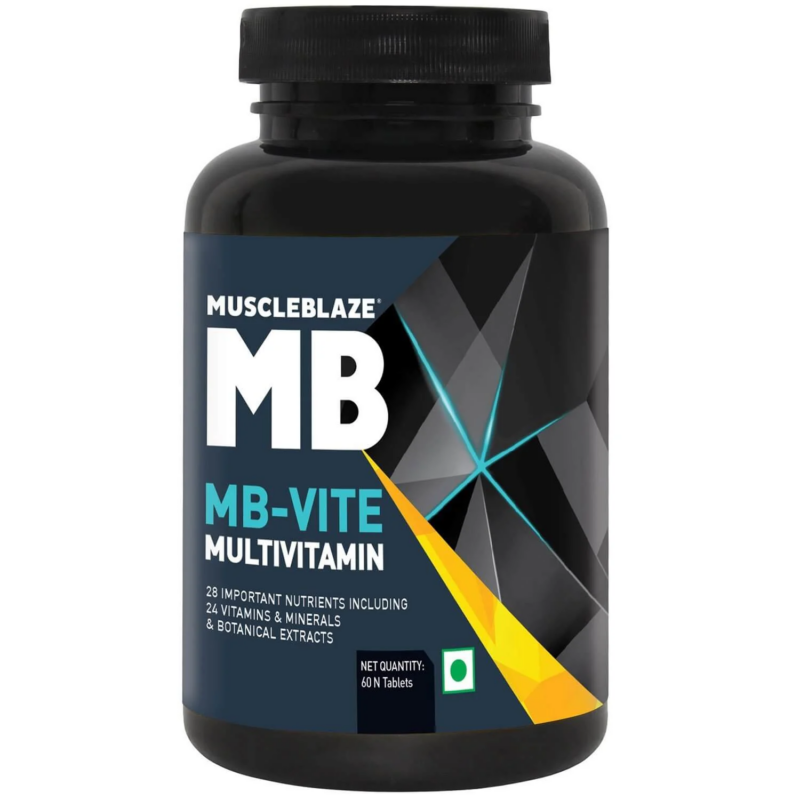 MB-Vite Multivitamin is another good quality multivitamin supplement that men can consider including in their daily diet.
Made with top-quality ingredients, this supplement help meets the daily micronutrient demand and furnishes higher energy levels, better metabolism, and overall health. The presence of botanical extracts of Panax Ginseng, Grapeseed, and Gingko Biloba promotes everlasting energy and stamina to fuel most intense training sessions while reducing oxidative stress.
Form: Tablet
Quantity: 60 and 120 Tablets
This supplement contains potent antioxidants, herbal extracts, and micronutrients to boost vigour, vitality, and overall well-being. Besides, one can enjoy the health benefits of probiotics that support better nutrient absorption and gives added immunity and energy.
This multivitamin provides most vitamins and minerals at 100% RDA. One tablet daily is perfect for making you feel healthier, stronger, and more energetic. Both men and women can include this multivitamin supplement in their daily routine to enjoy the health benefits.
Form: Tablet
Quantity: 30, 60, and 180 Tablets
Consider this multivitamin if you are into intense workouts, as it delivers all the essential vitamins and minerals for promoting optimal muscle growth. It also assists in training harder for a prolonged duration.
This supplement is a one-stop shop to take your training to the next level. Enriched with vitamins B6, B12, C, D, and copper, it helps boost energy metabolism and immune health and reduce tiredness and fatigue.
Made with top-quality pure and safe ingredients, BigMuscles Nutrition Multivitamin is superb for your strength, stamina, and endurance.
Form: Tablet
Quantity: 30 and 60 Tablets
What is the best-selling multivitamin for men?

Nutrabay Pro Active Multivitamin for men is the best-selling multivitamin that caters to daily vitamins and minerals needs. Its highly potent 25 vitamins and minerals blend supports a healthy and energetic lifestyle. The product is vegan-friendly, certified, and safe to consume by everyone, including older adults.
Which brand is the best for multivitamins?
Nutrabay brand is one of the best brands of multivitamins. The products are formulated considering the nutrition needs of the Indian population. They are certified and safe for long-term use.
What are the best overall 50+ yrs multivitamins for men?

Which is the best affordable multivitamin tablet for men in India?
Several brands offer good-quality, effective, and affordable multivitamin tablets, like Nutrabay, Carbamide Forte, BigMuscles, etc. One can choose based on health needs.
What are the top-rated multivitamins?

Which multivitamin should a man of 50 years take to stay fit?
A certified multivitamin containing essential nutrients like calcium, magnesium, vitamin D, zinc, iron, selenium, and B vitamins is suitable for men aged 50 years and above.
In 1 sentence, what are the best vitamins on the market?
The best multivitamins provide maximum vitamins and minerals at 100% RDA.
Which is the cheap and good multivitamin brand in India?
One can consider Nutrabay to buy the top-rated multivitamin supplement at the best price.
What is the best multivitamin for bodybuilding?
What is the best vitamin and mineral supplement?
The best vitamin and mineral supplement delivers maximum macronutrients at 100% RDA without added fillers, additives, or preservatives.
References